AmeriCorps Positions
Would you like to work in the field of Watershed Restoration?
We wanted to let everyone know that there will be 2 open Raccoon Creek AORC AmeriCorps positions for the 2023-24 term! This is a year long position running August-August. Responsibilities include but are not limited to: helping conduct biological sampling (fish and macroinvertebrates) and chemistry sampling, outreach and education, event planning, and social media.  Appalachian Ohio Restore Corps is also recruiting across the region. Sites like Monday Creek in Perry County and the Middle Tuscarawas River Watershed, in the beautiful Muskingum River Valley of eastern Ohio, focus on water quality health. Other sites are focused more on environmental education, public lands access, and economic development.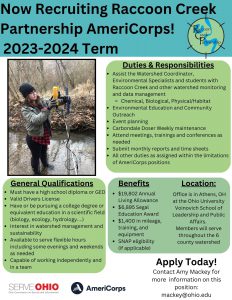 For more information about this and other opportunities with RCP, contact Amy Mackey at mackey@ohio.edu .